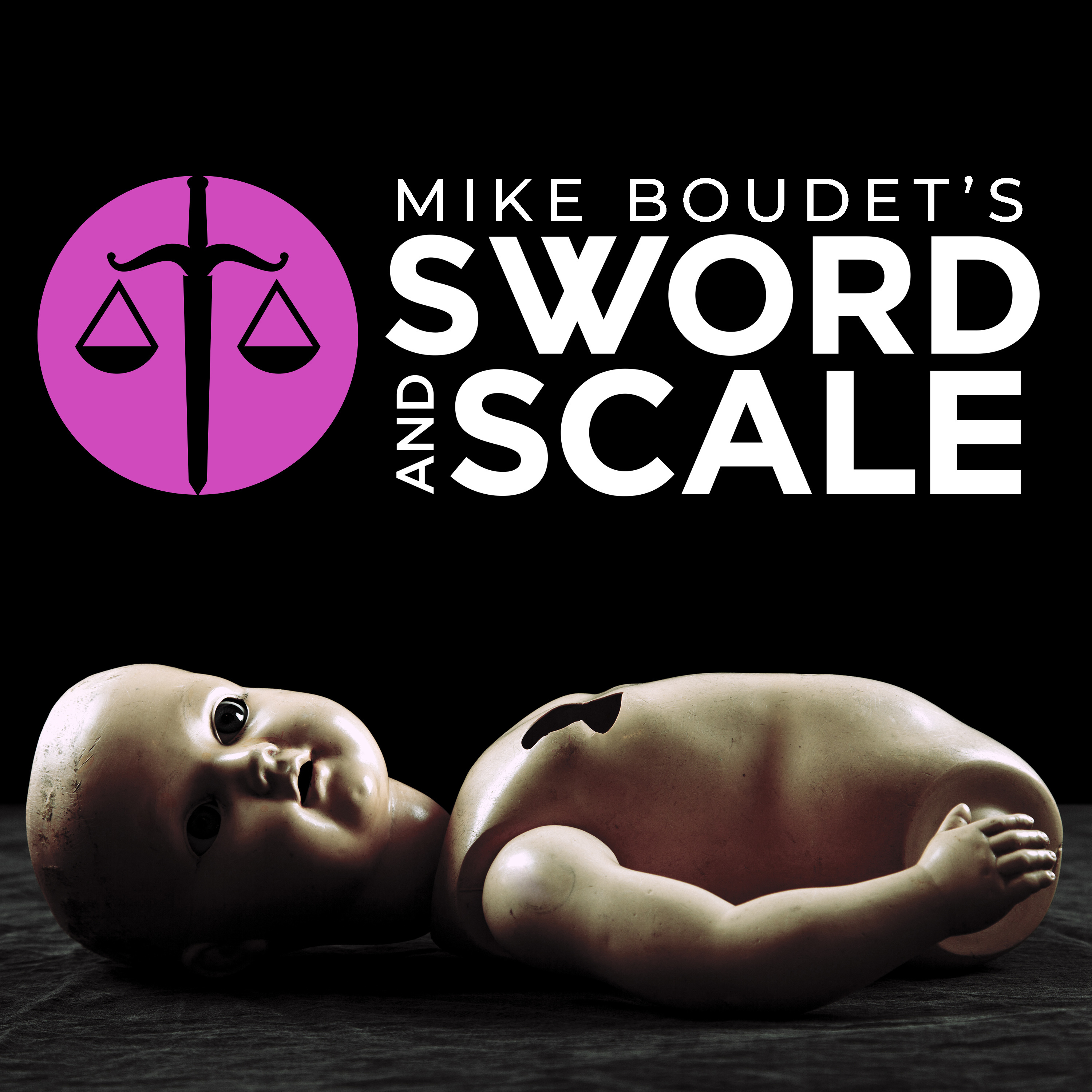 Sword and Scale
The Sword and Scale true-crime podcast is an immersive audio experience covering the dark side of humanity and human nature. Our stories delve into the worst of the worst and include murder, rape, dismemberment and cannibalism. No crime is too brutal and no victim is too pure. The worst monsters are real.
Sword and Scale Daily - Nov 15, 2019
A school shooting in Santa Clarita, California, leaves two students dead and five injured.
A Texas jury sentences a man to death for the double-murder of his roommate, and his roommates 17-year-old girlfriend.
Finally, law enforcement in California release new video evidence in the October kidnapping and murder of Indian-American Tech CEO, Tushar Atre.
Nov 15, 2019 • 00:13:26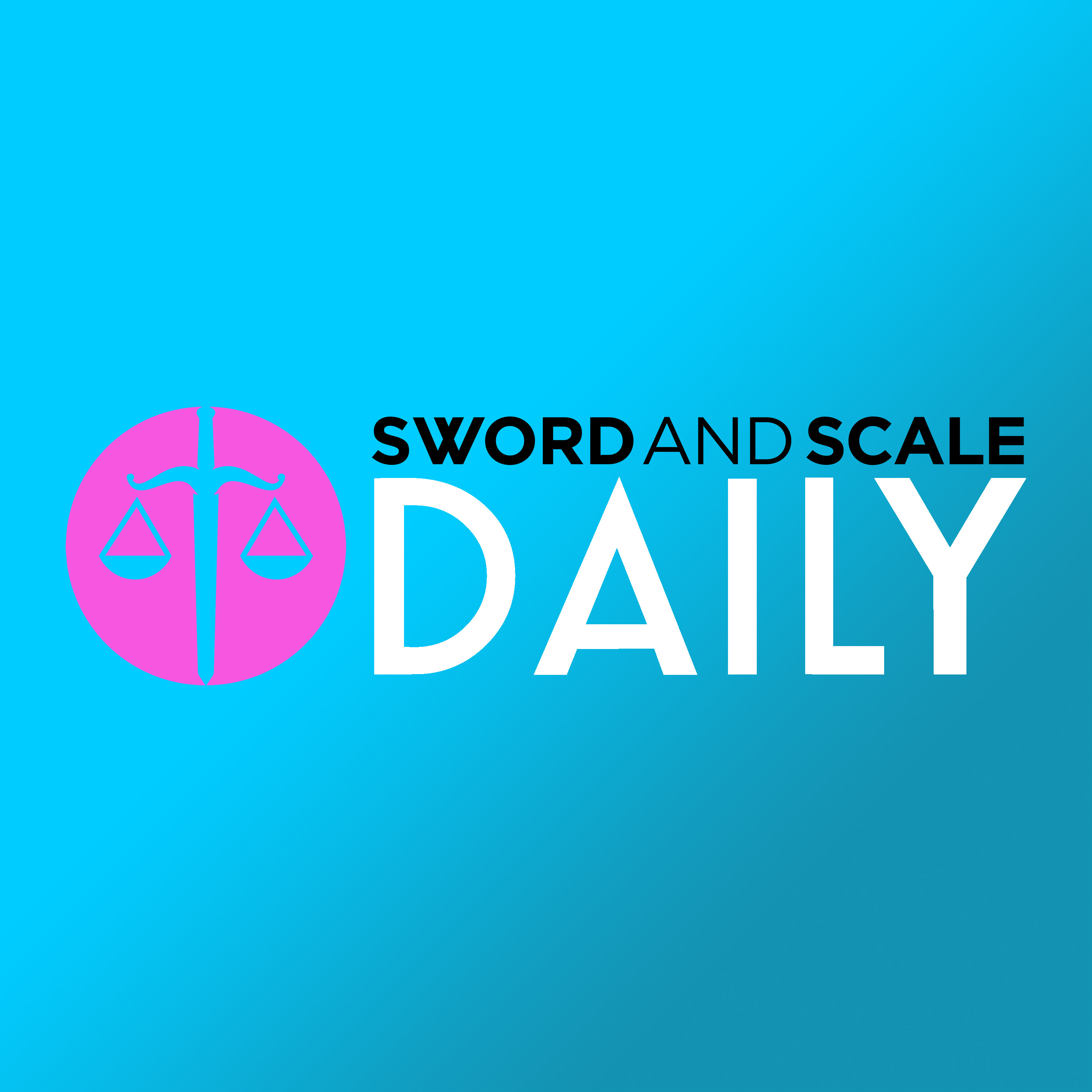 Sword and Scale Daily - Nov 14, 2019
In Ohio, a mother of five has been arrested and charged with a 2012 murder. Erika Stephanko is accused of helping her ex-husband murder his former girlfriend.
A Philadelphia woman is charged with abusing and murdering a four-year-old girl in her custody, after claiming the child was hurt in a fall.
Finally, in Newark, New Jersey, an alleged serial killer is on trial for the murder of three women and the attempted murder of a fourth. The crimes all took place in the fall of 2016, and the alleged killer was caught after the family and friends of his final victim set a trap for him on social media.
Nov 15, 2019 • 00:12:52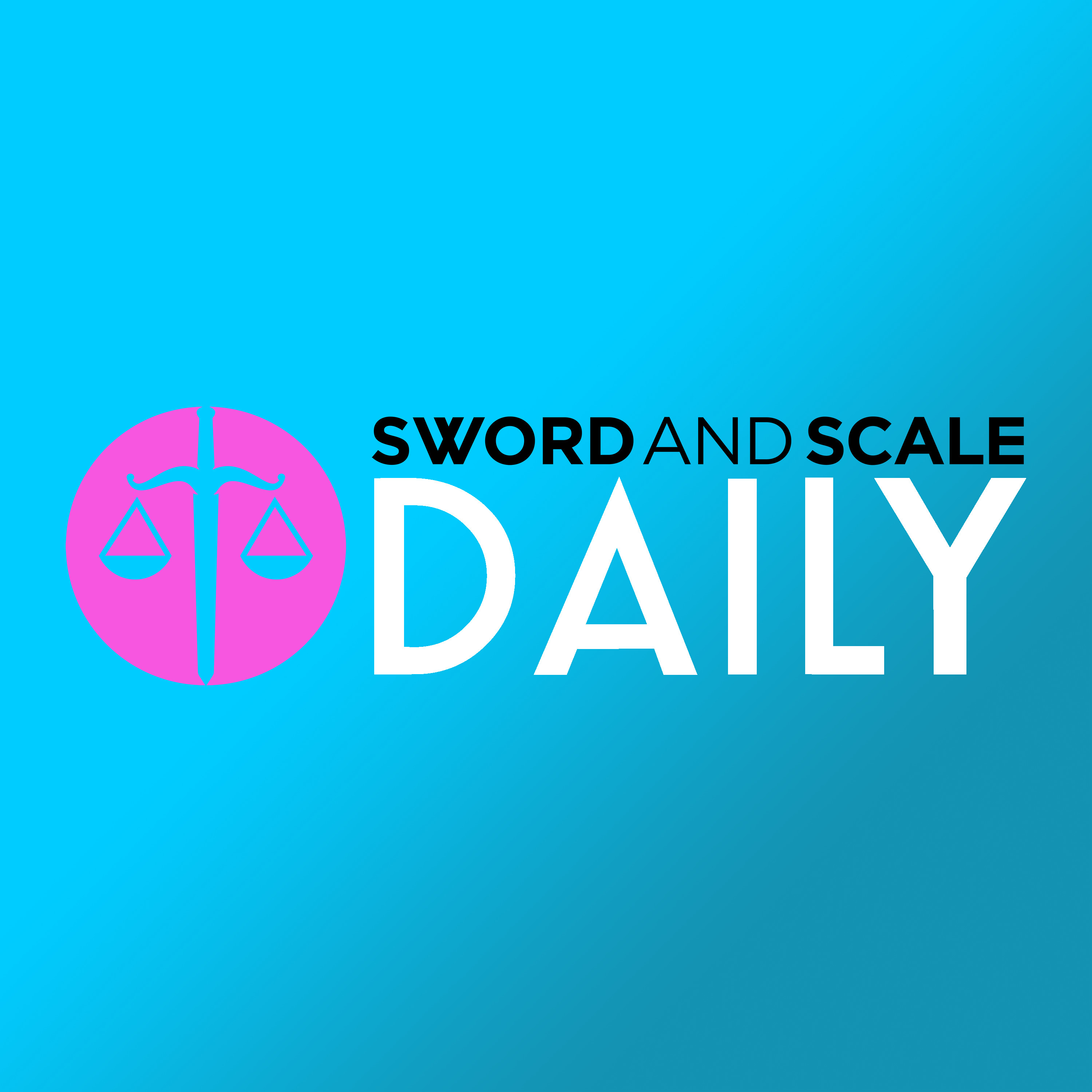 Sword and Scale Daily - Nov 13, 2019
An Oklahoma police chief is killed during a trip to a law enforcement conference in Florida, and one of his officers is charged with his murder.
A Texas man is in custody after kidnapping a girl and keeping her captive for eleven weeks.
Finally, in England, sentencing reveals new details in the case of an incestuous couple who murdered two of their children, and attempted to kill all of them.
Nov 15, 2019 • 00:12:08
Episode
Time
Released
Sword and Scale Daily - Nov 12, 2019
00:12:54
Nov 15, 2019
Sword and Scale Daily - Nov 11, 2019
00:12:19
Nov 15, 2019
Sword and Scale Daily - Meet the Host
00:02:40
Nov 14, 2019
Introducing Sword and Scale Daily
00:00:49
Nov 14, 2019
Free Rodney Reed
00:01:23
Nov 10, 2019
Episode 150
00:55:58
Nov 10, 2019
Episode 149
00:47:59
Oct 26, 2019
Surviving This - The Podcast
00:01:01
Oct 16, 2019
Episode 148
01:01:01
Oct 13, 2019
Episode 147
00:41:47
Sep 28, 2019
MONSTRUO SEASON II
00:27:49
Sep 19, 2019
Episode 146
01:13:06
Sep 8, 2019
Episode 145
01:06:33
Sep 1, 2019
Episode 144
00:54:19
Aug 18, 2019
Episode 143
00:55:36
Aug 3, 2019
Episode 142
00:53:07
Jul 21, 2019
Episode 141
01:04:15
Jul 14, 2019
Episode 140
01:07:11
Jul 4, 2019
Episode 139
01:00:01
Jun 9, 2019
Episode 138
00:53:41
May 26, 2019
Episode 137
01:03:50
May 12, 2019
Episode 136
00:49:47
Apr 21, 2019
Episode 135
00:44:05
Apr 7, 2019
Episode 134
01:27:12
Mar 23, 2019
Important Announcement - The End of Sword and Scale
00:06:50
Mar 9, 2019
Episode 133
01:20:35
Mar 8, 2019
Episode 132
00:59:21
Feb 24, 2019
Episode 131
01:19:46
Feb 10, 2019
Episode 130
01:08:58
Jan 26, 2019
MONSTRUO
00:09:17
Jan 9, 2019
Episode 129
01:01:19
Dec 16, 2018
Episode 128
00:51:53
Dec 9, 2018
Episode 127
00:55:36
Nov 25, 2018
Episode 126
00:43:52
Nov 11, 2018
Episode 125
00:44:17
Oct 28, 2018
Episode 124
00:51:35
Oct 13, 2018
Episode 123
01:03:18
Sep 30, 2018
Episode 122
01:15:07
Sep 15, 2018
Episode 121
01:09:42
Sep 1, 2018
Episode 120
00:58:46
Aug 19, 2018
Episode 119
01:05:45
Aug 5, 2018
Episode 118
01:16:55
Jul 22, 2018
Episode 117
01:06:18
Jun 17, 2018
Episode 116
01:00:33
Jun 3, 2018
Episode 115
01:15:48
May 20, 2018
Episode 114
01:00:57
May 12, 2018
Episode 113
01:14:39
Apr 29, 2018
Episode 112
01:07:28
Apr 14, 2018
Episode 111
01:01:14
Apr 1, 2018
Episode 110
01:38:06
Mar 17, 2018
Episode 109
00:58:17
Mar 4, 2018
Episode 108
01:07:22
Feb 18, 2018
Episode 107
01:20:37
Feb 4, 2018
Episode 106
01:26:32
Jan 21, 2018
Episode 105
01:16:54
Dec 10, 2017
Episode 104
01:03:50
Nov 26, 2017
Episode 103
01:00:08
Nov 12, 2017
Episode 102
01:10:16
Oct 29, 2017
Episode 101
01:05:54
Oct 15, 2017
Episode 100
00:51:45
Oct 1, 2017
Episode 99
01:17:28
Sep 16, 2017
Episode 98
01:02:36
Sep 3, 2017
Episode 97
01:00:02
Aug 20, 2017
Episode 96
01:01:49
Aug 6, 2017
Episode 95
01:00:06
Jul 23, 2017
Episode 94
00:59:54
Jul 9, 2017
Episode 93
00:55:35
Jul 1, 2017
Episode 92
01:05:37
Jun 18, 2017
Episode 91
01:05:12
Jun 4, 2017
Episode 90
00:56:57
May 21, 2017
Episode 89
01:09:54
May 7, 2017
Episode 88
00:55:16
Apr 23, 2017
Episode 87
00:59:25
Apr 8, 2017
Episode 86
00:52:13
Mar 26, 2017
Episode 85
01:05:25
Mar 12, 2017
Episode 84
01:12:57
Feb 26, 2017
Episode 83
00:52:05
Feb 13, 2017
Episode 82
01:00:03
Dec 17, 2016
Episode 81
00:56:54
Dec 1, 2016
Episode 80
01:03:24
Nov 20, 2016
Episode 79
00:56:02
Nov 5, 2016
Episode 78
01:01:34
Oct 23, 2016
Episode 77
01:01:44
Oct 9, 2016
Episode 76
01:05:12
Sep 25, 2016
Episode 75
00:58:43
Sep 11, 2016
Episode 74
00:57:23
Aug 28, 2016
Episode 73
01:05:40
Aug 13, 2016
Episode 72
01:03:08
Jul 31, 2016
Episode 71
00:55:31
Jul 17, 2016
Episode 70
00:58:46
Jul 2, 2016
Episode 69
01:01:32
Jun 19, 2016
Episode 68
00:56:25
Jun 5, 2016
Episode 67
00:57:21
May 22, 2016
Episode 66
01:04:00
May 8, 2016
Episode 65
01:16:26
Apr 23, 2016
Episode 64
01:05:53
Apr 2, 2016
Episode 63
00:50:13
Mar 27, 2016
Episode 62
00:57:52
Mar 13, 2016
Episode 61
01:00:06
Feb 28, 2016
Episode 60
00:56:08
Feb 14, 2016
Episode 59
00:56:49
Jan 31, 2016
Episode 58
00:54:02
Jan 17, 2016
Episode 57
00:57:05
Jan 3, 2016
Episode 56
01:24:34
Nov 15, 2015
Episode 55
00:54:15
Nov 1, 2015
Episode 54
01:05:54
Oct 19, 2015
Episode 53
01:04:47
Oct 3, 2015
Episode 52
01:07:31
Sep 20, 2015
Episode 51
01:11:16
Sep 6, 2015
Episode 50
01:48:26
Jul 19, 2015
Episode 49
01:14:49
Jul 3, 2015
Episode 48
01:17:08
Jun 21, 2015
Episode 47
01:14:13
Jun 7, 2015
Episode 46
01:09:52
May 24, 2015
Episode 45
01:04:29
May 17, 2015
Episode 44
01:02:45
May 3, 2015
Episode 43
01:13:47
Apr 19, 2015
Episode 42
00:59:43
Apr 12, 2015
Episode 41
00:57:58
Mar 29, 2015
Episode 40
01:29:12
Mar 15, 2015
Episode 39
01:02:35
Mar 1, 2015
Episode 38
01:00:05
Feb 14, 2015
Episode 37
00:59:53
Feb 8, 2015
Episode 36
00:52:17
Jan 25, 2015
Episode 35
01:04:29
Jan 18, 2015
Episode 34
00:58:26
Jan 11, 2015
Episode 33
01:03:27
Jan 4, 2015
Episode 32
01:06:34
Dec 7, 2014
Episode 31
01:00:36
Nov 23, 2014
Episode 30
01:39:12
Nov 8, 2014
Episode 29
00:54:40
Oct 19, 2014
Episode 28
01:20:04
Sep 28, 2014
Episode 27
01:00:08
Sep 21, 2014
Episode 26
01:13:39
Aug 28, 2014
Episode 25
01:11:19
Aug 14, 2014
Episode 24
00:58:50
Aug 1, 2014
Episode 23
01:05:55
Jul 19, 2014
Episode 22
01:20:23
Jul 2, 2014
Episode 21
01:06:00
Jun 21, 2014
Episode 20
00:51:34
Jun 11, 2014
Episode 19
00:55:20
Jun 3, 2014
Episode 18
01:10:49
May 26, 2014
Episode 17
00:55:21
May 18, 2014
Episode 16
01:01:29
May 11, 2014
Episode 15
01:20:56
May 4, 2014
Episode 14
00:50:50
Apr 22, 2014
Episode 13
01:09:43
Apr 15, 2014
Episode 12
01:14:13
Mar 25, 2014
Episode 11
00:58:43
Mar 18, 2014
Episode 10
01:10:33
Mar 11, 2014
Episode 9
00:51:05
Feb 25, 2014
Episode 8
01:04:46
Feb 18, 2014
Episode 7
01:11:20
Feb 11, 2014
Episode 6
01:01:29
Feb 4, 2014
Episode 5
00:54:26
Jan 28, 2014
Episode 4
00:53:36
Jan 21, 2014
Episode 3
01:01:01
Jan 14, 2014
Episode 2
01:08:11
Jan 7, 2014
Announcing Sword and Scale Rewind
00:01:11
Dec 31, 2013
Episode 1
00:56:24
Dec 31, 2013