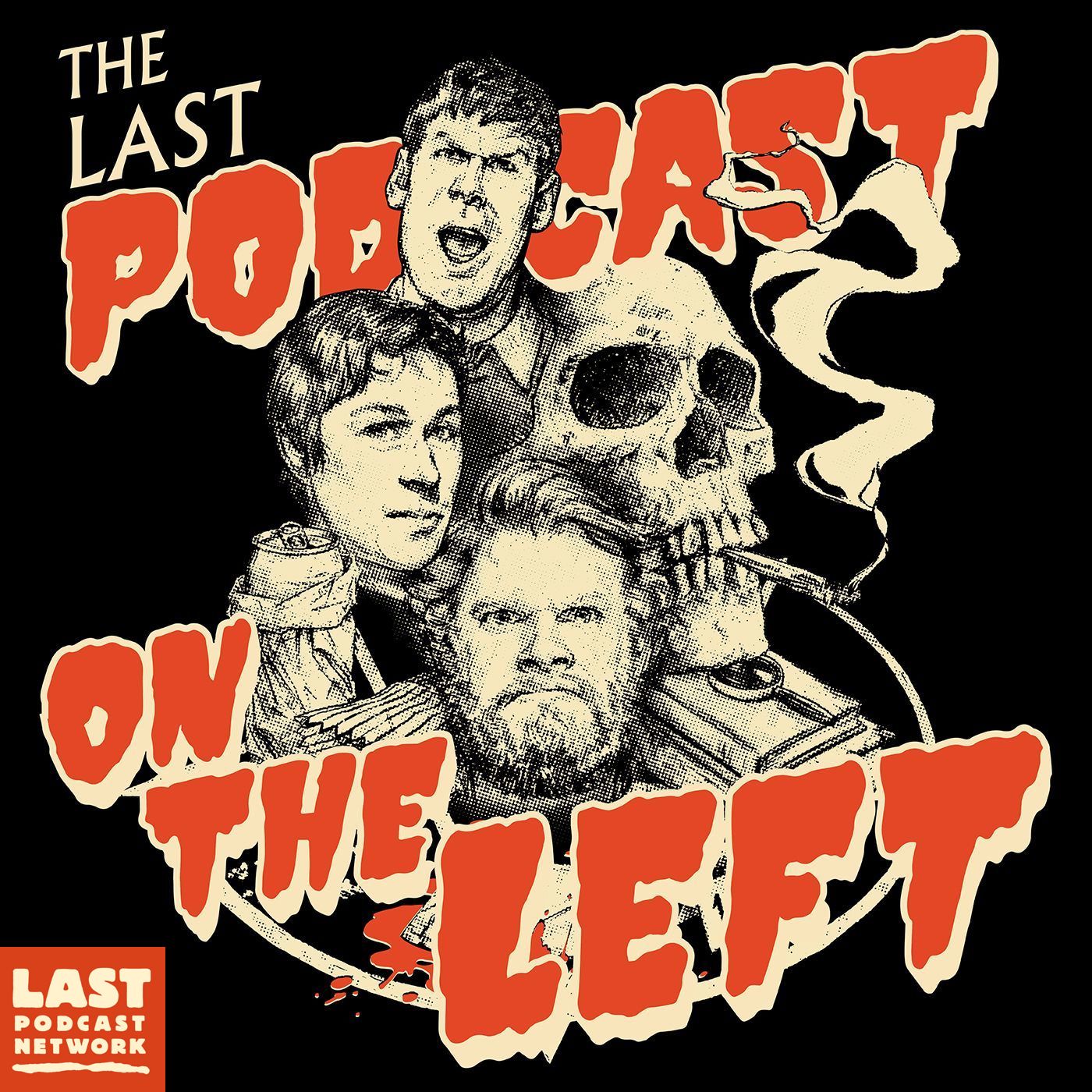 Last Podcast On The Left
The Last Podcast On The Left covers all the horrors our world has to offer both imagined and real, from demons and slashers to cults and serial killers, The Last Podcast is guaranteed to satisfy your blood lust.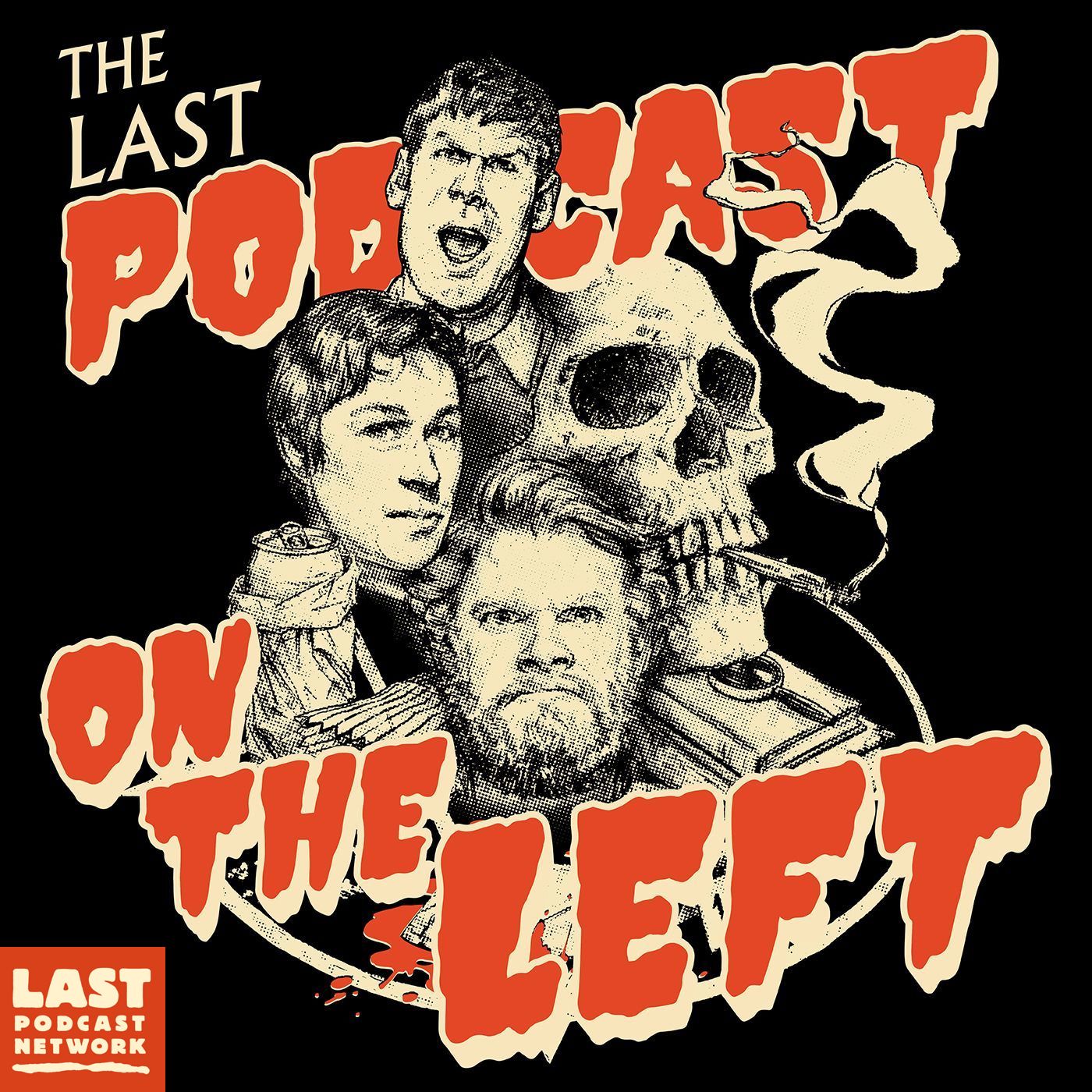 Episode 391: Relaxed Fit - The Finders
This week, we're doing a Relaxed Fit episode. We're talking about The Finders — a secretive group allegedly connected to the U.S. government — and MUCH MORE.
Get $5 off your first order of $15 or more when you download the DoorDash app and enter promo code LEFT.
Go to
http://liquidiv.com
and enter promo code LAST to get your savings and start getting better hydration!
Check out The Only Podcast Left starting November 7th exclusively on Spotify!
Nov 15, 2019 • 01:09:30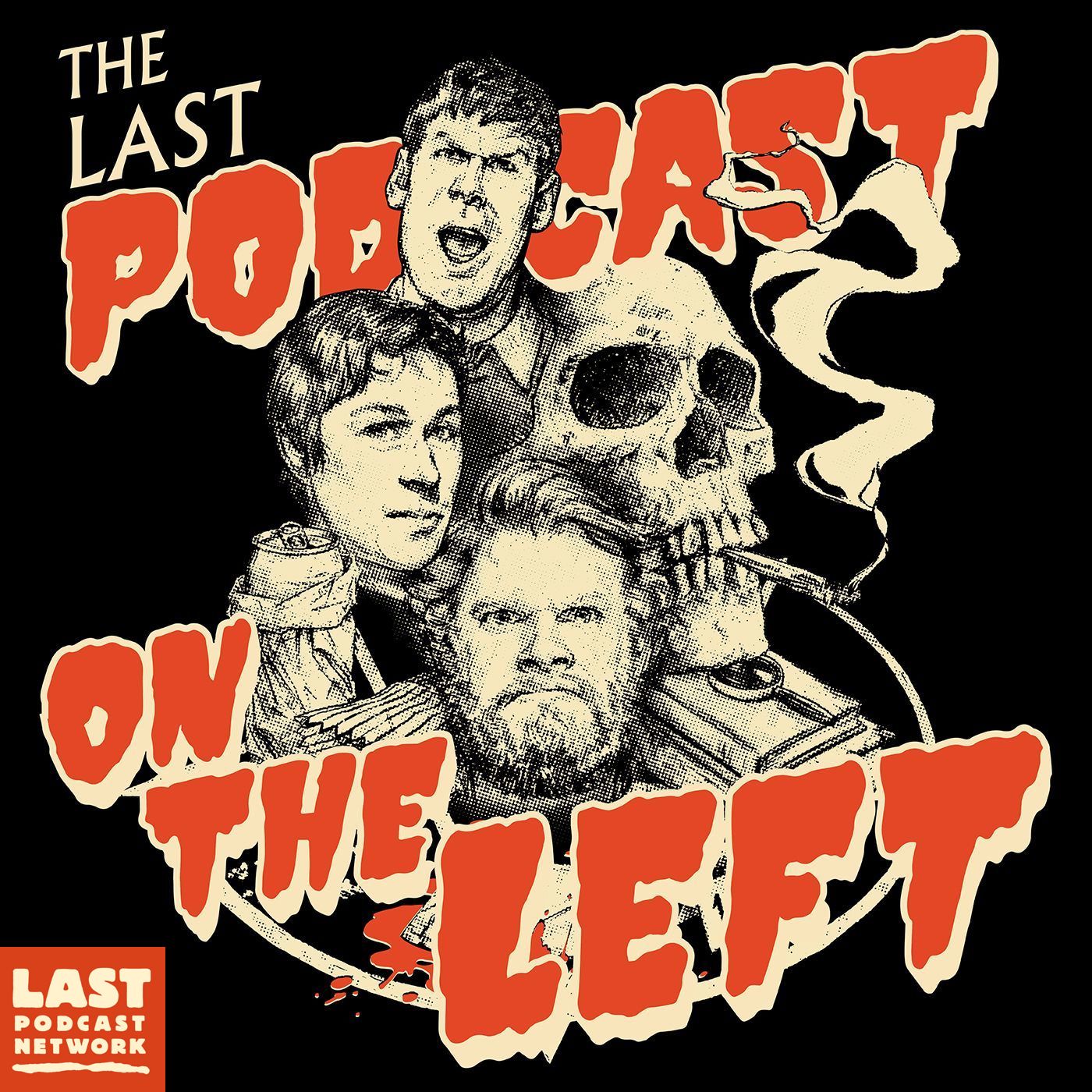 Side Stories: Vultures
Ben 'n' Henry break down this week's true crime news: a Mormon massacre in Mexico, a man fends off intruder with a battle axe, and MORE.
Nov 13, 2019 • 01:02:24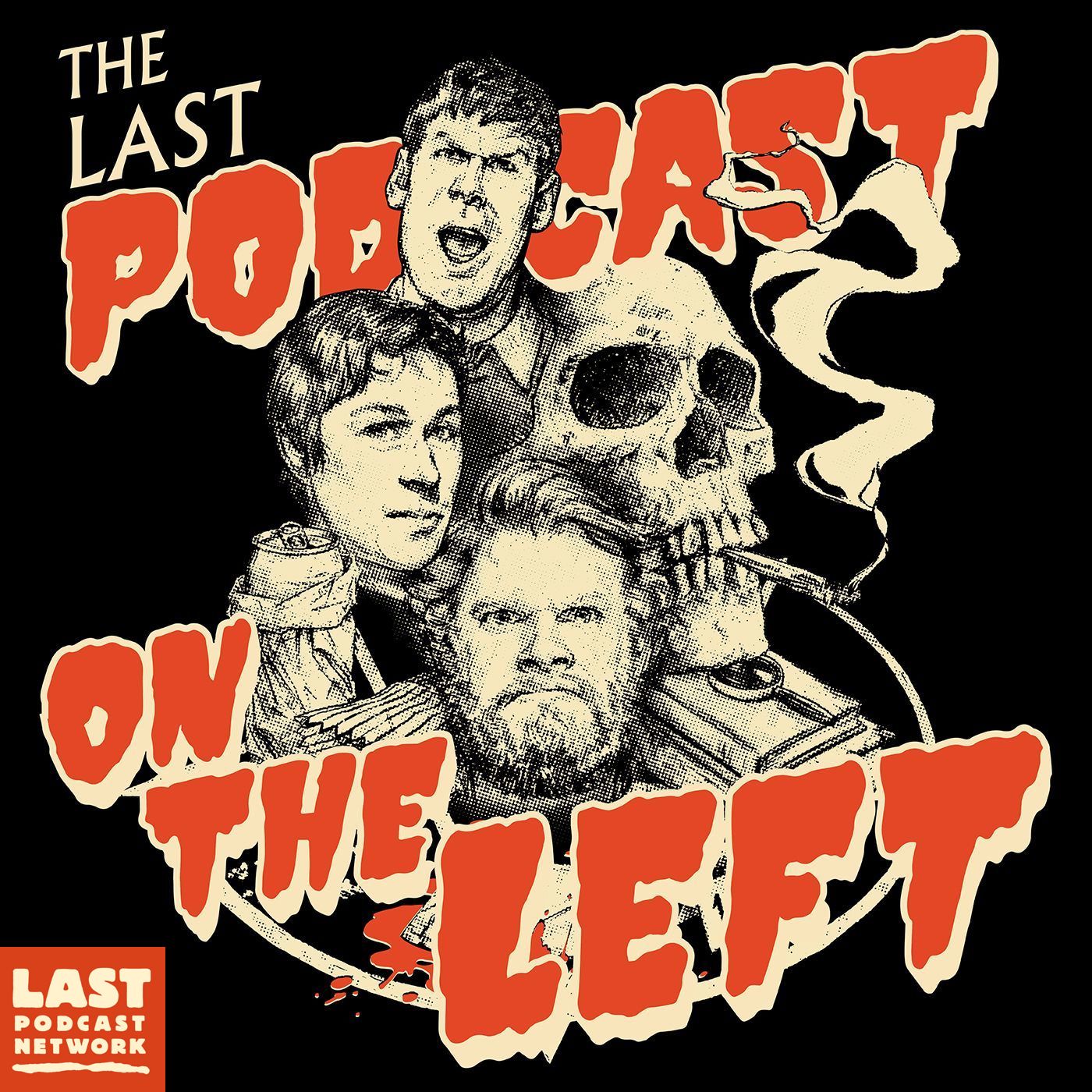 Episode 390: Hadden Clark Part II - Women's Panties
On the conclusion to our series on Hadden Clark, we hear how Hadden got the name of the Cross-Dressing Cannibal with his two proven murders, plus we get into his interrogation which rivals the Mark Twitchell case in terms of pure goofiness.
Go to http://framebridge.com and use promo code LEFT to save an additional 15% off your first order.
Order your Health + Ancestry kit for 50% off at http://23andme.com/left.
Check out http://squarespace.com/lastpod for a free trial, and when you're ready to launch,
use the offer code LASTPOD to save 10% off your first purchase!
Get 25% off a Calm Premium subscription at http://calm.com/LEFT.
"Chill" by Kevin MacLeod (incompetech.com)
License: CC BY (creativecommons.org/licenses/by/4.0/)
"Autumn Day" by Kevin MacLeod (incompetech.com)
License: CC BY (creativecommons.org/licenses/by/4.0/)
"Cool Vibes" by Kevin MacLeod (incompetech.com)
License: CC BY (creativecommons.org/licenses/by/4.0/)
"Cheery Monday" by Kevin MacLeod (incompetech.com)
License: CC BY (creativecommons.org/licenses/by/4.0/)
Nov 8, 2019 • 01:20:58
Episode
Time
Released
Side Stories: Visitations w/ Elijah Wood & Daniel Noah
57:16
Nov 6, 2019
Episode 389: Hadden Clark Part I - Mommy's Basement Bakery
01:25:47
Nov 2, 2019
Side Stories: The Curtain People
01:26:34
Oct 30, 2019
Minisode: Doctor Sleep
36:13
Oct 28, 2019
Episode 388: The Vampire Hunters of Highgate Cemetery
01:48:31
Oct 26, 2019
Side Stories: A Particular Shade of Red
01:13:08
Oct 23, 2019
Episode 387: The Most Haunted House In England Part II - Dirty Ding
01:36:03
Oct 18, 2019
Episode 387: The Most Haunted House In England Part II - Dirty Ding
00:00:00
Oct 18, 2019
Side Stories: Blast From The Past
55:59
Oct 16, 2019
Episode 386: The Most Haunted House In England Part I - The BGEC Boys
01:21:43
Oct 11, 2019
Kinda Fun: Wednesdays Are War (w/ Brody King)
46:12
Oct 10, 2019
Side Stories: Phantom Clowns and Cattle Mutilation
57:49
Oct 9, 2019
Minisode: Zombieland Double Tap
34:31
Oct 7, 2019
Episode 385: Mormonism Part VI - X-Men Cult Edition
02:45:23
Oct 5, 2019
Side Stories: Alien Shot in the Pine Barrens
52:51
Oct 2, 2019
Episode 384: Mormonism Part V - King of Beaver Island
02:15:19
Sep 27, 2019
Side Stories: Orphan
01:00:46
Sep 25, 2019
Episode 383: Q&A
01:24:10
Sep 20, 2019
Side Stories: Jinmenken Me Crazy
43:13
Sep 18, 2019
Episode 382: Mormonism Part IV - I Invented This Scam
02:19:27
Sep 14, 2019
Side Stories: JonBenét Was My Friend
50:39
Sep 11, 2019
Episode 381: Burke and Hare
01:09:29
Sep 6, 2019
Side Stories: Haunted Hooters
59:51
Sep 4, 2019
Episode 380: Mormonism Part III - The Level of Leakage
02:01:12
Aug 31, 2019
Side Stories: Chick-fil-Assault
53:52
Aug 28, 2019
Episode 379: Mormonism Part II - I'm in the Bible Now
01:40:44
Aug 23, 2019
Side Stories: A Break From Reality
54:12
Aug 21, 2019
Episode 378: Mormonism Part I - When You're Here You're Family
01:46:32
Aug 16, 2019
Side Stories: Epstein
51:17
Aug 14, 2019
Episode 377: Howard Unruh
01:34:24
Aug 9, 2019
Side Stories: The New Bohemian Grove
58:58
Aug 7, 2019
Episode 376: Joe Palczynski / The Bloody Benders
01:10:20
Aug 2, 2019
Side Stories: Boomer Secrets
56:00
Jul 31, 2019
Episode 375: Belle Gunness Part II - I Love Being a Farmhand
01:39:31
Jul 26, 2019
Side Stories: Eat Sugar
54:13
Jul 24, 2019
Episode 374: Belle Gunness Part I - Holes in the Hog Pit
01:39:04
Jul 19, 2019
Side Stories: Bianca Devins / Weaponized Ticks
58:05
Jul 17, 2019
Episode 373: Creepypasta 14 - Oh Yeah I Like This
01:23:28
Jul 12, 2019
Side Stories: Leverage
46:20
Jul 10, 2019
Episode 372: Adelaide, City of Evil
57:44
Jul 5, 2019
Side Stories: Extraterrestrial Terrorists
59:10
Jul 3, 2019
Episode 371: Bonnie and Clyde Part III - Filthy, Smelly, and Surly
02:07:20
Jun 28, 2019
Episode 370: Bonnie and Clyde Part II - Give Me The Money Now
02:13:35
Jun 21, 2019
Side Stories: Dan Aykroyd
52:49
Jun 19, 2019
Episode 369: Bonnie and Clyde Part I - Once You Go Short
01:56:20
Jun 14, 2019
Side Stories: The Bigfoot Files
47:17
Jun 12, 2019
Episode 368: The Rendlesham Forest Incident Part II - Uncle Larry's 42nd Birthday
01:35:27
Jun 7, 2019
Side Stories: Yandere Stabbing
57:24
Jun 5, 2019
Episode 367: Ed Savitz / Joe Meek
01:26:19
Jun 1, 2019
Side Stories: Grasping At Straws
48:08
May 29, 2019
Episode 366: Rendlesham Forest Part I - I'm the Alien
01:31:14
May 24, 2019
Side Stories: Good Karma
58:32
May 22, 2019
Episode 365: Psychic Vampires
01:22:05
May 17, 2019
Side Stories: Sky Penis
01:03:07
May 15, 2019
Episode 364: Israel Keyes Part II - Mama Bones' Vodon Hamburger Bar
01:20:20
May 10, 2019
Side Stories: Extremely Wicked, Shockingly Cute
59:29
May 8, 2019
Episode 363: Icelandic Sorcery
01:16:28
May 3, 2019
Side Stories: I Saw The Sign
59:38
May 1, 2019
Episode 362: Israel Keyes Part I - The Nu Metal Serial Killer
01:22:57
Apr 26, 2019
Side Stories: Pig Brains
01:11:58
Apr 24, 2019
Episode 361: The Devils of Loudun Part II - And That's a Promise
01:47:37
Apr 21, 2019
Side Stories: Hangry
59:35
Apr 17, 2019
Episode 360: The Devils of Loudun Part I - Dr Silly
01:19:17
Apr 12, 2019
Side Stories: Wooden Bong
55:22
Apr 10, 2019
Episode 359: Illuminati Update
01:11:17
Apr 5, 2019
Side Stories: Fakes Among Us
55:02
Apr 3, 2019
Episode 358: The Electric Chair
01:28:07
Mar 29, 2019
Side Stories: Joe Bob Briggs
01:07:13
Mar 27, 2019
Episode 357: Joseph Kallinger Part II - The Perfect Waiter
01:54:57
Mar 22, 2019
Side Stories: The Ripper's Rag
59:45
Mar 20, 2019
Episode 356: Joseph Kallinger Part I - The Shoemaker
01:39:48
Mar 15, 2019
Side Stories: Momo's Bizarre Adventure
51:31
Mar 13, 2019
Episode 355: Leaving Neverland
01:07:51
Mar 8, 2019
Side Stories: Marty the Robot
59:06
Mar 6, 2019
Episode 354: Skinwalker Ranch Part III - The Investigation
01:37:09
Mar 1, 2019
Side Stories: Sword Fight on Stardust Ranch
56:21
Feb 27, 2019
Episode 353: Skinwalker Ranch Part II - Tales of the Gormans
01:34:18
Feb 22, 2019
Side Stories: Do Attend
01:09:13
Feb 20, 2019
Episode 352: Skinwalker Ranch Part I - The Utah Flap
01:37:54
Feb 15, 2019
Episode 352: Skinwalker Ranch Part I - The Utah Flap
00:00:00
Feb 15, 2019
Side Stories: Human Dolls
51:40
Feb 13, 2019
Episode 351: Ouija
01:42:12
Feb 8, 2019
Side Stories: Metal Health
48:37
Feb 6, 2019
Episode 350: Josef Mengele Part III - The Hunt
02:24:48
Feb 3, 2019
Side Stories: The Ted Bundy Tapes
01:11:01
Jan 30, 2019
Episode 349: Josef Mengele Part II - The Crimes of Mengele
02:06:34
Jan 27, 2019
Side Stories: KB
44:13
Jan 23, 2019
Episode 348: Josef Mengele Part I - The Rise of Eugenics
01:39:20
Jan 18, 2019
Side Stories: Noisy Crickets
55:16
Jan 16, 2019
Episode 347: Mark Twitchell Part II - Some Kinda Ketchup Party
01:35:50
Jan 11, 2019
Side Stories: Hot Tub Conspiracy
01:05:26
Jan 9, 2019
Episode 346: Mark Twitchell Part I - Favorite Duck of the Month
01:28:15
Jan 4, 2019
Side Stories: Cannibal Corpse Rapture
49:18
Jan 2, 2019
Episode 345: Hangmen and Headsmen
01:40:24
Dec 21, 2018
Side Stories: Grease Trap
01:00:47
Dec 19, 2018
Episode 344: The Book of Revelation
01:52:12
Dec 14, 2018
Side Stories: Russia's Werewolf Killer
01:05:05
Dec 12, 2018
Episode 343: The Order of the Solar Temple Part III - December 4th, 1994
01:25:13
Dec 9, 2018
Side Stories: John Chau's Impossible Mission
47:42
Dec 5, 2018
Episode 342: The Order of the Solar Temple Part II - The Rise and Fall of the Order
01:49:30
Nov 30, 2018
Side Stories: Tiger Beat
43:54
Nov 28, 2018
Side Stories: Threatin
01:00:27
Nov 21, 2018
Episode 341: The Order of the Solar Temple Part I - The Beginning
01:29:25
Nov 16, 2018
Side Stories: Noodles & Beef
59:04
Nov 14, 2018
Episode 340: Peter Kürten Part II - Dr Chuckles
01:12:14
Nov 9, 2018
Side Stories: Oumuamua
59:43
Nov 7, 2018
Episode 339: Peter Kürten Part I - Papa Denke
01:28:24
Nov 2, 2018
Side Stories: Every Horror Movie Is My Child 2
57:46
Oct 31, 2018
Episode 338: Murderous Possession - The Story of Michael Taylor
01:42:30
Oct 26, 2018
Side Stories: Listenerpasta VI - The Shape of Water, Barley, and Hops
01:22:30
Oct 24, 2018
Side Stories: Listenerpasta VI - The Shape of Water, Barley, and Hops
00:00:00
Oct 24, 2018
Episode 337: The West Memphis Three Part III - The Trials
02:02:23
Oct 19, 2018
Side Stories: Stargate
59:00
Oct 17, 2018
Episode 336: The West Memphis Three Part II - The Confession of Jessie Misskelley
01:50:28
Oct 12, 2018
Side Stories: Drunk Birds
53:23
Oct 10, 2018
Episode 335: The West Memphis Three Part I - The Road to Hell
01:56:16
Oct 5, 2018
Side Stories: Sovereign Citizens
48:28
Oct 3, 2018
Episode 334: Flat Earth
01:44:47
Sep 28, 2018
Side Stories: Grandpa Died Twice
47:16
Sep 26, 2018
Episode 333: The Andreasson Affair
01:49:00
Sep 21, 2018
Side Stories: Hybrid Armies & Little Green Men
47:14
Sep 19, 2018
Episode 332: The Donner Party Part II - The Forlorn Hope
01:45:20
Sep 14, 2018
Side Stories: Joe Exotic 2020
49:25
Sep 12, 2018
Episode 331: The Donner Party Part I - Salt of the Earth
01:24:54
Sep 7, 2018
Side Stories: Notorious B.T.K.
48:54
Sep 5, 2018
Episode 330: Katherine Knight Part II - Bangaroo
01:23:37
Aug 31, 2018
Side Stories: Every Horror Movie Is My Child
56:18
Aug 29, 2018
Episode 329: Katherine Knight Part I - Lady Leatherface
01:19:29
Aug 24, 2018
Side Stories: Kuklinski VS Panzram
44:40
Aug 22, 2018
Episode 328: Richard Kuklinski Part III - The Fall of the Iceman
02:03:36
Aug 17, 2018
Side Stories: Lady of the Dunes
48:16
Aug 15, 2018
Episode 327: Richard Kuklinski Part II - Tales of the Iceman
01:44:22
Aug 10, 2018
Side Stories: The Beautiful Writer Who Killed
42:30
Aug 8, 2018
Episode 326: Richard Kuklinski Part I - Origins of the Iceman
01:40:01
Aug 3, 2018
Side Stories: Make Mud, Not War
39:16
Aug 1, 2018
Best of: Panzram
01:14:21
Jul 27, 2018
Side Stories: Bigfoot Serves the Devil
43:46
Jul 25, 2018
Best of: Roswell
46:23
Jul 20, 2018
Episode 325: Men in Black Part III - Time Crime
01:15:56
Jul 13, 2018
Episode 324: The Men in Black Part II - Pig Transport
01:16:12
Jul 6, 2018
Side Stories: RIP Bush's Baked Beans Dog
35:45
Jul 4, 2018
Episode 323: The Men in Black Part I - You Fed the Tulpa
01:16:45
Jun 29, 2018
Side Stories: Do AI-Powered Coffee Machines Have Wet Dreams?
34:51
Jun 27, 2018
Episode 322: Biggie and Tupac Part III - The Murders
01:11:32
Jun 22, 2018
Side Stories: Hereditary
36:10
Jun 20, 2018
Episode 321: Biggie and Tupac Part II - Scuttled
01:05:11
Jun 15, 2018
Side Stories: Foot Taco
40:17
Jun 14, 2018
Episode 320: Biggie and Tupac Part I - Sugar Bear
01:44:33
Jun 8, 2018
Side Stories: Killdozer and the Cavitations
38:32
Jun 7, 2018
Episode 319: Creepypasta XIII - A Meat's Dream
01:21:53
Jun 1, 2018
Episode 318: Dennis Nilsen Part II - A Thin Strand of Humanity
01:29:14
May 25, 2018
Side Stories: The Corrections
45:54
May 23, 2018
Episode 317: Dennis Nilsen Part I - Orientation in Me
01:37:45
May 18, 2018
Side Stories: QAnon
38:35
May 16, 2018
Episode 316: The Assassination of John Lennon Part II
01:49:29
May 11, 2018
Side Stories: Bruce McArthur
35:30
May 9, 2018
Episode 315: The Assassination of John Lennon Part I
01:24:19
May 4, 2018
Side Stories: EARONS & Incels
53:14
May 2, 2018
Episode 314: The Jersey Devil
01:13:07
Apr 27, 2018
Side Stories: NXIVM
43:46
Apr 25, 2018
Episode 313: Rasputin Part IV: The Fall of Rasputin
01:33:33
Apr 20, 2018
Side Stories: RIP Art Bell
30:59
Apr 18, 2018
Episode 312: Rasputin Part III - The Rise of Rasputin
01:13:56
Apr 13, 2018
Episode 311: Rasputin Part II - Agrarian
01:30:38
Apr 6, 2018
Episode 310: Rasputin Part I - Greg Drunk
01:17:59
Mar 30, 2018
Episode 309: Robert Hansen Part II - Gross Truncations
01:23:45
Mar 23, 2018
Episode 308: Robert Hansen Part I - Gun Nerd
01:34:35
Mar 16, 2018
Episode 307: Casey Anthony Part II - The Dancing Belvins
01:27:48
Mar 9, 2018
Episode 306: Casey Anthony Part I - Ill Wishers
01:59:40
Mar 2, 2018
Episode 305: The Hudson Valley Sightings
02:02:53
Feb 23, 2018
Page 7: Valenwine's Day
50:29
Feb 16, 2018
Patreon Sampler: His Master's Voice
49:06
Feb 16, 2018
Episode 304: Jonestown Part V - The Last Year
02:08:56
Feb 9, 2018
Episode 303: Jonestown Part IV - The Box
01:46:58
Feb 2, 2018
Abe Lincoln's Top Hat: The State of Our Union
52:06
Feb 1, 2018
Episode 302: Jonestown Part III - Check Please
01:58:34
Jan 26, 2018
Episode 301: Jonestown Part II - Sidestep and Bullshit
01:53:55
Jan 19, 2018
Minisode: The Thames Torso Murders
30:06
Jan 17, 2018
Episode 300: Jonestown Part I - Everyone in the World Is My Friend
01:43:37
Jan 12, 2018
Episode 299.75: Pee Wee Gaskins Part IV - The Final Truth
01:05:20
Jan 5, 2018
Episode 299.5: Pee Wee Gaskins Part III - Tell That to Aunt Monkey
01:00:53
Dec 29, 2017
Episode 299: Pee Wee Gaskins Part II - The Chicken's Tongue
01:06:30
Dec 15, 2017
Episode 298: Pee Wee Gaskins Part I - See Ya Monday
01:13:21
Dec 8, 2017
Episode 297: The Lost Continent of Lemuria
01:07:42
Dec 1, 2017
Episode 296: Black Widows Part II - Hit and Run Helen
54:28
Nov 24, 2017
Episode 295: Black Widows Part I - The Polish Prognosticator
01:01:19
Nov 17, 2017
Episode 294: Bill Cooper Part II - The Secret Government
01:25:59
Nov 10, 2017
Episode 293: Bill Cooper Part I - The Granddaddy of Conspiracy
01:17:02
Nov 2, 2017
Episode 292: Listenerpasta V - Babyface
01:10:35
Oct 27, 2017
Episode 291: Robert Pickton Part IV - Out to Lunch
01:20:56
Oct 20, 2017
Episode 290: Robert Pickton Part III - Mrs. Pickton
01:02:10
Oct 12, 2017
Episode 289: Robert Pickton Part II - La Costra Pigsta
01:23:48
Oct 5, 2017
Episode 288: Robert Pickton Part I - Pig Sense
01:20:42
Sep 29, 2017
Episode 287: Norwegian Black Metal Part III - This Laughable Society
01:14:07
Sep 21, 2017
Episode 286: Norwegian Black Metal Part II - Orc Urinal
01:01:01
Sep 15, 2017
Episode 285: Norwegian Black Metal Part I - Chainsaw Gutsfuck
01:30:52
Sep 10, 2017
Episode 284: The Travis Walton Abduction - Fire In The Sky
01:34:55
Sep 1, 2017
Episode 283: Sexy Ghosts II - 20 Cock Lane
01:12:33
Aug 24, 2017
Episode 282: Jerry Brudos Part II - Coke and Conversation
01:16:44
Aug 20, 2017
Episode 281: Jerry Brudos Part I - Dump Fever
01:36:47
Aug 17, 2017
Episode 280: The Enfield Poltergeist Part II - Poopergeist
01:25:47
Aug 3, 2017
Episode 279: The Enfield Poltergeist Part I - Oh Crumbs!
01:17:23
Jul 27, 2017
Episode 278: Creepypasta XII - U-Turn to Madness
01:02:11
Jul 20, 2017
Episode 277: Oklahoma City Part IV - The Big Rub
01:09:07
Jul 13, 2017
Episode 276: Oklahoma Part III - Follow the Guillotines
01:22:17
Jul 12, 2017
Episode 275: Oklahoma City Part II - Noodle McVeigh
01:37:36
Jun 26, 2017
Episode 274: Oklahoma City Part I - The Day
01:17:09
Jun 19, 2017
Episode 273: Carl Panzram Part III - Yacht Club
01:10:25
Jun 1, 2017
Episode 272: Carl Panzram Part II - The Akista
01:00:55
May 24, 2017
Episode 271: Carl Panzram Part I - A Bit of a Grouch
01:05:55
May 19, 2017
Episode 270: Kurt Cobain Part II - The Ghost Train of El Duce
01:00:13
May 9, 2017
Episode 269: Kurt Cobain Part I - Albini's Weenies
01:08:12
May 8, 2017
Episode 268: The Philadelphia Experiment
01:32:46
May 3, 2017
Episode 267: Aileen Wuornos Part II - Dr. Legal
01:48:42
Apr 18, 2017
Episode 266: Aileen Wuornos Part I - Yosemite Samantha
01:33:29
Apr 14, 2017
Episode 265: Chris Benoit
01:36:49
Apr 6, 2017
Episode 264: L. Ron Hubbard Part IV - Sea Org
01:42:11
Mar 31, 2017
Episode 263: L. Ron Hubbard Part III - Scientology Begins
01:47:01
Mar 23, 2017
Episode 262: L. Ron Hubbard Part II - Dianetics
01:32:16
Mar 15, 2017
Episode 261: L. Ron Hubbard Part I - Grub Hubbard
01:36:48
Mar 9, 2017
Episode 260: Live In Chicago
01:14:38
Feb 23, 2017
Episode 259: The Puerto Rican Chupacabra
01:24:38
Feb 16, 2017
Episode 258: Jack The Ripper V - The Suspects Part II
01:23:24
Feb 10, 2017
Episode 257: Jack The Ripper Part IV - The Suspects Part I
01:01:01
Feb 2, 2017
Episode 256: Jack The Ripper Part III - Oh Murder!
54:39
Jan 26, 2017
Episode 255: Jack The Ripper Part II - Anything But Your Prayers
01:02:05
Jan 19, 2017
Episode 254: Jack the Ripper Part I - Cockney Yoga
54:10
Jan 13, 2017
Episode 253: The Gulf Breeze Sightings Part II - Gary, Don, and Bob
01:15:59
Jan 4, 2017
Episode 252: The Gulf Breeze Sightings Part I - Ammonia and Cinnamon
01:00:24
Dec 30, 2016
Episode 251: Children of God Part IV - Ricky
01:17:12
Dec 16, 2016
A Conversation with My Favorite Murder
53:34
Dec 14, 2016
Episode 250: Children of God Part III - Flesh Daddy
01:07:36
Dec 9, 2016
Episode 249: Children of God Part II - Dad Was A Sexy Guy
01:16:27
Dec 1, 2016
Episode 248: Children of God Part I - Mother's Peanut Butter
01:12:14
Nov 21, 2016
Episode 247: The Lobster Boy Murders
01:08:50
Nov 11, 2016
Episode 246: Richard Chase Part II - Mrs Dracul
01:12:28
Nov 2, 2016
Episode 245: Richard Chase Part I - The Cat Tree
01:03:53
Oct 27, 2016
Episode 244: Listenerpasta IV - Jeff
01:07:05
Oct 26, 2016
Episode 243: Listener Stories III - War Edition
01:28:10
Oct 19, 2016
Episode 242: Time Travelers
01:13:31
Oct 12, 2016
Episode 241: Serial Killers And The Women Who Love Them
01:18:37
Sep 24, 2016
Episode 240: The Black Monk of Pontefract
01:04:35
Sep 14, 2016
Episode 239: Billy Meier - Alien Collaborator
01:12:35
Sep 7, 2016
Episode 238: The Menendez Brothers Part II - White Trash With Money
01:22:10
Aug 31, 2016
Episode 237: The Menendez Brothers Part I - A Castro Or A Bega
01:03:14
Aug 24, 2016
Episode 236: Albert Fish Part III - The Werewolf of Wysteria
01:16:07
Aug 17, 2016
Episode 235: Albert Fish Part II - That's How They Do It In Hollywood
01:04:18
Aug 10, 2016
Episode 234: Albert Fish Part I - You Asked For This
01:25:41
Aug 3, 2016
Episode 233: The Secret Space Program
01:10:43
Jul 21, 2016
Episode 232: Bigfoot Hunters
01:07:58
Jul 13, 2016
Episode 231: Chaos Magic Part II - The Discipline
52:12
Jul 6, 2016
Episode 230: Chaos Magic Part I - The Basics
51:18
Jul 1, 2016
Episode 229: Henry Yells At Dave Willis About Aliens
38:40
Jun 29, 2016
Episode 228: Sexy Ghosts
01:02:33
Jun 16, 2016
Episode 227: The Hillside Stranglers Part III - You Can Call Me Steve
59:09
Jun 10, 2016
Episode 226: The Hillside Stranglers Part II - Airplane School
01:03:21
Jun 2, 2016
Episode 225: The Hillside Stranglers Part I - The Buzzard
01:10:45
May 26, 2016
Episode 224: Creepypasta XI - Lemon Clams
53:18
May 19, 2016
Episode 223: Witch Hunts
01:10:40
May 6, 2016
Episode 222: Manifestos
01:31:42
Apr 28, 2016
Episode 221: Aum Shinrikyo Part IV - A Billionaire's Testicles
01:07:24
Apr 23, 2016
Episode 220: Aum Shinrikyo Part III - The Soldiers of White Love
01:23:03
Apr 13, 2016
Episode 219: Aum Shinrikyo Part II - The Bitter Cookie
01:01:59
Apr 7, 2016
Episode 218: The Aum Shinrikyo Death Cult Part I - Mountain Wizards
01:13:40
Apr 1, 2016
Episode 217: Roswell Part II - It's a Balloon
01:03:30
Mar 23, 2016
Episode 216: Roswell Part I - It's a UFO
01:19:27
Mar 17, 2016
Episode 215: Paranormal Photography
58:49
Mar 9, 2016
Episode 214: Chemtrails
01:02:21
Mar 2, 2016
Episode 213: Dean Corll Part IV - A Country Boondoggle
01:06:47
Feb 25, 2016
Episode 212: Dean Corll Part III - 18 Inch Double
58:40
Feb 24, 2016
Episode 211: Dean Corll Part II - The Ready Sled
01:00:31
Feb 10, 2016
Episode 210: Dean Corll Part I - The Pouting Room
59:51
Feb 4, 2016
Episode 209: Ghost Cats of the South
51:12
Jan 20, 2016
Episode 208: David Bowie and the Occult
01:19:31
Jan 17, 2016
Episode 207: Leonard Lake and Charles Ng Part IV - Roughly Ten Cats
01:01:25
Jan 6, 2016
Episode 206: Leonard Lake and Charles Ng Part III - Jocular Type Talk
57:32
Dec 31, 2015
Episode 205: The Detective Popcorn Christmas Special
19:36
Dec 21, 2015
Episode 204: Leonard Lake and Charles Ng Part II - What I Bring To Friendship
58:31
Dec 10, 2015
Episode 203: Leonard Lake and Charles Ng Part I - Operation Brownie Pockets
01:04:23
Dec 3, 2015
Episode 202: H.H. Holmes Part III - Professional Uncle
01:11:56
Nov 25, 2015
Episode 201: H.H. Holmes Part II - Nothing But Trouble
01:05:34
Nov 19, 2015
Episode 200: H.H. Holmes Part I - The Horrid Meat
01:10:05
Nov 10, 2015
Episode 199: The Magick Series - The Left Hand Path
01:16:01
Nov 4, 2015
Episode 198: Halloween
50:22
Oct 30, 2015
Episode 197: The Magick Series - The Right Hand Path
01:44:05
Oct 22, 2015
Episode 196: Listener Stories II - You Do It
01:39:09
Oct 14, 2015
Episode 195: Listenerpasta III - He's So Cold
54:36
Oct 7, 2015
Episode 194: Son of Sam Part II - The Wicked King of Wicker
01:10:20
Sep 30, 2015
Episode 193: Son of Sam Part I - Kill For My Master
01:07:05
Sep 23, 2015
Episode 192: Hollow Earth
01:19:04
Sep 17, 2015
Episode 191: 9/11 Part III - Six Degrees of Baphomet
01:11:15
Sep 11, 2015
Episode 190: 9/11 Part II - The Conspiracy
01:44:21
Sep 2, 2015
Episode 189: 9/11 Part I - The Day
01:40:04
Aug 28, 2015
Episode 188: Dulce Part Two - Serious Business Mode
53:33
Aug 19, 2015
Episode 187: The Dulce Facility Part I - Pronounced Kkhhah-sshh-fahsh-sst
01:20:30
Aug 12, 2015
Episode 186: Fairies
01:00:55
Aug 5, 2015
Episode 185: Henry Lee Lucas Part IV - I Belong To The Devil
01:07:44
Jul 29, 2015
Episode 184: Henry Lee Lucas Part III - The Hand of Death
01:05:49
Jul 23, 2015
Episode 183: Henry Lee Lucas Part II - Highway Star
01:20:27
Jul 16, 2015
Episode 182: Henry Lee Lucas Part I - From the Womb of a Whore
01:08:21
Jul 8, 2015
Episode 181: Creepypasta X - Thumbers
01:08:10
Jul 1, 2015
Episode 180: An Interview with Laurence R. Harvey
26:32
Jun 22, 2015
Episode 179: Columbine Part II - Creations, Exploitations, and Cover-Ups
01:13:25
Jun 17, 2015
Episode 178: Columbine Part I - The Myth
01:06:43
Jun 10, 2015
Episode 177: Mysterious Sounds and Recordings
01:18:32
Jun 3, 2015
Episode 176: Amityville Part II - The Truth
52:34
May 27, 2015
Episode 175: Amityville Part I - The Story
56:57
May 21, 2015
Episode 174: Ed Gein Part Three - Salted and Treated
01:09:35
May 13, 2015
Episode 173: Ed Gein Part II - A Living Rainbow
59:22
May 6, 2015
Episode 172: Ed Gein Part I - Oddball
01:07:04
Apr 30, 2015
Episode 171: Serial Killers of the American Frontier
01:15:08
Apr 22, 2015
Episode 170: Betty and Barney Hill Part II - Don't Think I Can't Take It
01:06:07
Apr 15, 2015
Episode 169: The Betty and Barney Hill Abduction Part I - Concentric Circles
59:35
Apr 8, 2015
Episode 168: JonBenét Ramsey Part II - The Last Bulb on the Christmas Tree
01:05:05
Apr 1, 2015
Episode 167: JonBenét Ramsey Part I - And Hence
01:01:08
Mar 25, 2015
Episode 166: Ed Kemper Part 2 - Momendorf
01:11:49
Mar 18, 2015
Episode 165: Ed Kemper Part 1 - A Bit of a Bumblebutt
01:00:28
Mar 11, 2015
Episode 164: Playing with the Dead
01:21:14
Mar 4, 2015
Episode 163: Axe Murderers Part Two - Pinning Butterflies
58:09
Feb 25, 2015
Episode 162: Axe Murderers Part One - Horse Owner and Horse
53:44
Feb 18, 2015
Episode 161: Hollow Moon
01:12:31
Feb 17, 2015
Episode 160: The Boston Strangler Murders Part 2 - Shoes in the Shower
01:15:24
Feb 17, 2015
Episode 159: The Boston Strangler Murders Part - A Paranoia of Mother-Hate
01:21:02
Feb 17, 2015
Episode 158: Nazis and the Occult Part 2 - White People Nerds
01:07:55
Feb 17, 2015
Episode157: Nazis and the Occult Part 1 - Severe and Annoying
01:07:59
Feb 17, 2015
Episode 156: The Coronado Group Abduction
01:03:38
Feb 17, 2015
Episode 155: 2014: The Year in Murder and Mayhem
01:19:23
Feb 17, 2015
Episode 154: The Dark Side of Santa Claus
01:03:56
Feb 17, 2015
Episode 153: Fred and Rosemary West
01:13:41
Feb 17, 2015
Episode 152: The Dylatov Pass Incident
01:04:01
Feb 17, 2015
Episode 151: Horrors of the UK
01:13:57
Feb 17, 2015
Episode 150: Monsters of the American Indian
01:12:08
Feb 17, 2015
Episode 149: Charles Manson Part 3: The Devil's Work
01:31:50
Feb 17, 2015
Episode 148: Charles Manson Part 2: The Turning of the Worm
01:19:09
Feb 17, 2015
Episode 147: Charles Manson Part 1: An Incarcerated Life
01:15:24
Feb 17, 2015
Episode 146: Creepypasta 9: Gjoberdik
01:06:14
Feb 17, 2015
Episode 145: Listnerpasta II: Brain Worms
01:15:09
Feb 17, 2015
Episode 144: Halloween Breakdown
01:08:01
Feb 17, 2015
Episode 143: The Worst Ways to Die
01:09:08
Feb 17, 2015
Episode 142: Chikatilo Part 2: Andrei's Big Day Out
01:12:30
Feb 17, 2015
Episode 141: Andrei Chikatilo Part 1: Soviet Moods
01:10:25
Feb 17, 2015
Episode 139: Edgewood Part 1: The Colonel's Pink Cadillac
01:03:58
Feb 16, 2015
Episode 140: Edgewood Part 2: Disco Soup
01:00:32
Feb 16, 2015
Episode 138: Henry's True Crime Los Angeles Adventure
44:31
Feb 16, 2015
Episode 137: Astrology
01:09:33
Feb 16, 2015
Episode 136: Ted Kaczynski Part 2: Eat Your Cake and Have It Too
01:14:02
Feb 16, 2015
Episode 135: Ted Kaczynski Part 1: I Will Have My Revenge!
01:01:07
Feb 16, 2015
Episode 134: Alien-Human Hybrids
01:03:21
Feb 16, 2015
Episode 133: Waco
01:27:18
Feb 16, 2015
Episode 132: Australian Serial Killers Part 2: Essie Made Me Do It
01:01:29
Feb 16, 2015
Episode 131: Australian Serial Killers Part 1: Big Bradley
53:38
Feb 16, 2015
Episode 130: Creepypasta 8: Leg of a Horse
50:19
Feb 16, 2015
Episode 129: O.J. Simpson
01:04:29
Feb 16, 2015
Episode 128: Werewolves Part II: Eat the Boy
49:27
Feb 16, 2015
Episode 127: Werewolves Part I: God's Werewolf
54:25
Feb 16, 2015
Episode 126: Haunted Hollywood
57:46
Feb 16, 2015
Episode 125: Archons, Seres, and the Secret Fates of All Mankind
01:01:13
Feb 16, 2015
Episode 124: Dahmer Part III: Paint It White
01:04:53
Feb 16, 2015
Episode 123: Dahmer Part II: How To Be Left Alone In The Ghetto
01:11:13
Feb 16, 2015
Episode 122: Dahmer Part I: Infinity Land
59:54
Feb 16, 2015
Episode 121: Remote Viewing
53:29
Feb 16, 2015
Episode 120: The Satanic Government Part III: The Franklin Cover-Up Part II
55:07
Feb 16, 2015
Episode 119: The Satanic Government Part II: The Franklin Cover-Up Part I
59:39
Feb 16, 2015
Episode 118: Satanism in the Government Part I: Hellfire
01:00:46
Feb 16, 2015
Episode 117: The Sensitive Monsters
01:03:09
Feb 16, 2015
Episode 116: Gary Ridgway
55:18
Feb 16, 2015
Episode 115: Creepypasta 7: The High Price We Pay at the Pump
45:17
Feb 16, 2015
Episode 114: The Bridgewater Triangle
01:02:02
Feb 16, 2015
Episode 113: Henry's New Orleans Adventure
27:11
Feb 16, 2015
Episode 112: Gangstalking
50:29
Feb 16, 2015
Episode 111: Richard Ramirez Part II: Wet Leather
01:05:07
Feb 16, 2015
Episode 110: Richard Ramirez: The Night Stalker
57:49
Feb 16, 2015
Episode 109: Regional Monsters II: A Hint of Mucus
56:13
Feb 16, 2015
Episode 108: Urban Legends
01:06:28
Feb 16, 2015
Episode 107: Haunted Battlegrounds: The American Civil War
01:00:19
Feb 16, 2015
Episode 106: John Wayne Gacy Part II: Maybe He Didn't Do It
01:11:01
Feb 16, 2015
Episode 105: John Wayne Gacy
01:06:05
Feb 16, 2015
Episode 104: Journey to the Planet Serpo
48:35
Feb 16, 2015
Episode 103: Creepypasta 6: The Repercussions of Evil
53:43
Feb 16, 2015
Episode 102: Serial Killers of World War II
01:09:53
Feb 16, 2015
Episode 101: Hate Week
44:21
Feb 16, 2015
Episode 100: Bundy Part 2: Bones for Time
01:02:36
Feb 16, 2015
Episode 99: Bundy
59:14
Feb 16, 2015
Episode 98: Hostage to the Devil
01:05:57
Feb 16, 2015
Episode 97: Movies of the Beast
01:04:45
Feb 16, 2015
Episode 96: Call 911!
01:05:24
Feb 16, 2015
Episode 95: Listenerpasta
01:11:57
Feb 16, 2015
Episode 94: Creepypasta 5: Babybum
50:30
Feb 16, 2015
Episode 93: Gnomes!
53:23
Feb 16, 2015
Episode 92: Black Serial Killers Part II: The Zebra Murders
49:18
Feb 16, 2015
Episode 91: Black Serial Killers Part 1: Call Me God
52:58
Feb 16, 2015
Episode 90: The Pleiadians and the Battle for Humanity
47:25
Feb 16, 2015
Episode 89: Open Lines
01:08:03
Feb 16, 2015
Episode 88: The Vile Vortices
55:41
Feb 16, 2015
Episode 87: Spree Killers Pt. 2: I've Been Getting These Headaches...
59:44
Feb 16, 2015
Episode 86: Spree Killers Pt. 1: If They Knew How Much Fun I Was Havin'...
01:08:16
Feb 16, 2015
Episode 85: Witches: A History and Demonstration of Their Power
52:43
Feb 16, 2015
Episode 84: Unsolved Serial Murders Part 2: The Zodiac
01:15:44
Feb 16, 2015
Episode 83: Unsolved Serial Murders Part 1: The Phantom, the Axe, and the Torso
33:15
Feb 16, 2015
Episode 82: Secret Societies
01:04:41
Feb 16, 2015
Episode 81: Female Serial Killers
01:04:22
Feb 16, 2015
Episode 80: The Citizen's Hearing on Disclosure
44:10
Feb 16, 2015
Episode 79: Creepypasta 4: Then Who Was Phone?
50:07
Feb 16, 2015
Episode 78: Lord RayEl: The Messiah Has Arrived
50:51
Feb 16, 2015
Episode 77: Japanese War Crimes
48:13
Feb 16, 2015
Episode 76: Real-Life Vampires
49:15
Feb 16, 2015
Episode 75: The Afterlife
49:21
Feb 16, 2015
Episode 74: Sex Dungeons
54:03
Feb 16, 2015
Episode 73: Ley Lines, Dolphins, and the Indigo
50:57
Feb 16, 2015
Episode 72: Alien Implants and Abductions
57:38
Feb 16, 2015
Episode 71: The American Curse
49:23
Feb 16, 2015
Episode 70: King of the Warlocks
34:20
Feb 16, 2015
Episode 69: Satanic Ritual Abuse Part II: Old Grandma Played the Piano
53:07
Feb 16, 2015
Episode 68: Satanic Ritual Abuse Part I: Burning In My Rectum
43:58
Feb 16, 2015
Episode 67: Spectrophilia
42:46
Feb 16, 2015
Episode 66: The Dark World of Internet Fetish Sites
40:53
Feb 16, 2015
Episode 65: Creepypasta 3: The Hamburgering
43:32
Feb 16, 2015
Episode 64: Bonus Material: The Jonestown Death Tape
54:54
Feb 16, 2015
Episode 63: Bigfoot
43:47
Feb 16, 2015
Episode 62: Thought Form Energy Ghosts
44:35
Feb 16, 2015
Episode 61: The B.T.K. Killer Part Two: Detective Popcorn
39:53
Feb 16, 2015
Episode 60: Serial Killer Fantasy Baseball Live
44:28
Feb 16, 2015
Episode 59: The B.T.K. Killer Part One: The Ball Game Explodes
39:58
Feb 16, 2015
Episode 58: Cobra, The Light Aliens, and You
43:37
Feb 16, 2015
Episode 57: Jesus
45:47
Feb 16, 2015
Episode 56: A Maximillian LeBlanc Christmas
04:15
Feb 16, 2015
Episode 55: The Great Beast 666
52:37
Feb 16, 2015
Episode 54: Curses
47:52
Feb 16, 2015
Episode 53: The Toybox Killer
54:14
Feb 16, 2015
Episode 52: Project MK-Ultra
50:29
Feb 16, 2015
Episode 51: Gucci and Dogs and HAARP
52:02
Feb 16, 2015
Episode 50: 50th Episode Halloween Spooky Story Extravaganza!
01:30:27
Feb 16, 2015
Episode 49: Haunted House Adventure
56:05
Feb 16, 2015
Episode 48: 666: The List of the Beast
50:57
Feb 16, 2015
Episode 47: Origins of the Pyramids
41:53
Feb 16, 2015
Episode 46: Cannibalism
54:09
Feb 16, 2015
Episode 45: Demon Hunters
46:16
Feb 16, 2015
Episode 44: A Smattering of Creepy
55:20
Feb 16, 2015
Episode 43: Occult Symbols
37:26
Feb 16, 2015
Episode 42: Ghost, Alien, or Molested?
41:08
Feb 16, 2015
Episode 41: Our Psychic Powers
24:50
Feb 16, 2015
Episode 40: The Alien Agenda
41:36
Feb 16, 2015
Episode 39: Hail Satan!
46:19
Feb 16, 2015
Episode 38: Erratic Behavior
30:24
Feb 16, 2015
Episode 37: The Zombie Apocalypse is Upon Us
34:40
Feb 16, 2015
Episode 36: Sandwiches in the Matrix
31:18
Feb 16, 2015
Episode 35: There's Bones In The Chocolate
33:57
Feb 16, 2015
Episode 34: Heaven's Gate
41:40
Feb 16, 2015